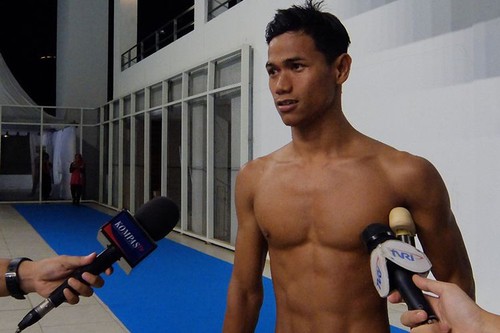 The para-swimming athlete, Jendi Pangabaean, thanked all Indonesian people for the support given to him. Jendi won the gold medal in the 100 meters men's S9 backstroke at the Aquatic Stadium, the Bung Karno (GBK) complex on Thursday (11/10/2018). Jendi Pangabean claimed to have given the best so he could win a gold medal in the number that had been targeted. "Indeed, it has been targeted at the 100 meters backstroke to get a gold medal," said Jendi.
"I have tried and provided the best so I can get maximum results," he continued. After winning the gold medal in the 100 meters backstroke, Jendy will return to compete in two numbers on Friday (12/10/2018). Therefore, Jendi expects direct support at the race location to increase enthusiasm. "I would like to thank the supporters. However, I hope that the entire community can watch this race directly so that we athletes get support and enthusiasm," he said. Furthermore, the victory he obtained was presented to the Indonesian people, especially the Donggala people who were previously affected by the earthquake.
"I offer this victory to the Indonesian people. Especially for the brothers in Donggala, hopefully they will always be spiritually facing trials," he concluded. Gold won in the 100 meters backstroke as well as being the second medal for Jendi. Previously, he had donated a bronze medal in S9 men's 100 meters freestyle. With Jendi's success, Indonesia has now collected 24 gold medals at the Asian Para Games until Thursday night.